About EERC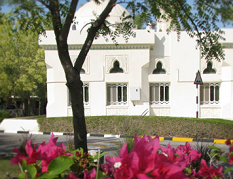 Shown Left: Petroleum Institute (PI) of Abu Dhabi, UAE
In line with its mission to provide world-class education to the citizens of the United Arab Emirates in engineering and the applied sciences, The Petroleum Institute (PI) of Abu Dhabi, UAE, entered a long-term collaborative effort with the University of Maryland (UMD) in April 2006 to enhance its own undergraduate, graduate studies/research, and continuing education practices. The PI was founded by Emiri decree in 2001 under the direction of H.H. Sheikh Khalifa bin Zayed Al-Nahyanand. It is sponsored by a consortium of Abu Dhabi National Oil Company (ADNOC) and its international partners (Shell, BP, Total, and Japan Oil Development Company.
The PI and UMD recognize the many potential benefits for both institutions that could result specifically from collaborative educational and research activities in the field of Energy Sciences and Engineering.
The Energy Education and Research Collaboration (EERC) has been created within the A.J. Clark School of Engineering at the University of Maryland to provide the administrative structure and academic oversight for these collaborative efforts.